Live at Kuumbwa, a Glass Box Repertory Company Benefit (8/9/98)
The Best Bet for Five Bucks
Good music is always a fine reason to rouse oneself out of a Sunday night stupor; and if the five-bucks-cheap you spend on the entertainment goes to help out a budding theater company, so much the better. On August 9, 1998, a clear and warm evening in Santa Cruz, CA, locals and drama lovers showed up at the Kuumbwa Jazz Center for a fun, lively show to support the Glass Box Repertory Company, the newest organization to shake up the area's arts community.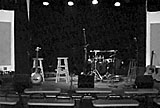 the empty stage before the show starts
Glass Box founded in 1996, is firmly planted in the region with seven Santa Cruz locals sitting on its board. And as Santa Cruz artists like to take care of their own, Scruz's favorite rock sons Stellavision (nee Eden Retread) and ukelele virtuoso Oliver Brown donated their time and their talents for the benefit.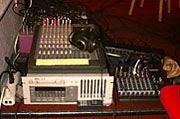 the recording gear
Stellavision took the stage with a relaxed, slightly shy air. After a charming, timid greeting, they rolled into a stunning version of Led Zep's "Going to California". The audience's enthusiastic response warmed them up, and they picked up steam, bantering and joking between tracks from their latest release, "Stella What's-Her-Name", along with new tunes like "Jam in C" and a cover of the Beatles' "Another Girl" that sounded like the Fab Four had come back from the dead (or at least came out of hiding) for a reunion. The standout by far was "Funky Blue House", a rousing, funky (as the name suggests) song that ended the set on a high note that was difficult to top.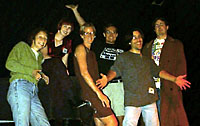 the gbrc board (minus darlene and jason) w/ aimee
Oliver Brown, however, did his best to do so. The jovial (and yet strangely cynical) uke player sang songs of love ("There's A girl At The Deli"), sex ("Va Va"), politics ("Fidel Castro"), sports (ditto), home ("Santa Cruz, Santa Cruz") and cheap beer ("Old Milwaukee"). Brown's a popular performer in town, and many in the audience were longtime fans of his. Song requests were shouted to him between, and sometimes during, songs, and he welcomed the interruptions graciously, cranking out favorites like the twangy "Innuendo & Out The Other" and "The Astrology Song" for the crowd, which responded ecstatically. In his decade-plus on stage, Brown has refined his audience-patter to an art form. Even when he momentarily forgets a lyric or two, he works it into the act and the few beats he misses are covered up gracefully.
It was all good, as the kids say. So good the audience stuck around chatting with the Glass Box organizers and performers long after the music stopped. If this is indicative of the type of show GBRC puts on, they should have a long and fruitful existence.
---
For more information or be placed on the mailing list for previews on upcoming Glass Box Repertory Company events, contact Darlene at 831-462-6173, email gbrc@glassbox.chime.com or snail mail PO Box 1114, Santa Cruz, CA 95061.